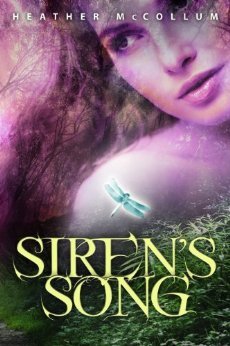 Release date: March 25, 2014
Publisher: Spencer Hill Press
Genre: YA Paranormal Romance



Jule Welsh can sing. She enthralls people with her bel canto voice. But it takes more than practice to reach her level of exquisite song; it takes siren's blood running through her veins. Jule is starting her senior year at Cougar Creek High when her relatively normal world begins to resemble a roller coaster flying through a carnival scare house. Her mother is diagnosed as insane and committed, a psycho-stalker is snapping pictures of her to put into his homemade Jule-shrine, her voice is suddenly putting people into comatose trances, oh and the gorgeous new guy in town, Luke Whitmore, is interested in her . . . but also wants to kill her.




My Rating: 5 Roses
An engaging, sweet, and truly lovely YA paranormal romance,
Siren's Song
was a fantastic read. I absolutely loved this book. From the sweet romance, to the shocking secrets, this book was wonderful. Loved it!
Jule was a great heroine. She was strong enough to hold her own in a difficult situation and clever enough to know when sacrifices were necessary. I appreciated that she was smart enough to consider anything when it came to finding out who was behind all the chaos and listened to her instincts. I really liked her. She was a lovely character.
Luke was also wonderful. He was very sweet and determined to keep Jule safe, even if it was from himself. He was in a difficult situation, to say the least, but he was determined to make the best of it. I thought he was just adorable.
The romance was lovely. Jule and Luke were so sweet together. It was obvious how much they cared for each other and I liked how they were both willing to fight for each other. They were a perfect couple.
The whole history of the Sirens and the cursed ones was interesting and delightfully original. It was well explained and the secrets hidden in its history kept me guessing.
The plot was well paced and I was hooked then entire way through. I wish Jule had been able to figure out Luke's situation earlier, because her lack of knowledge made the beginning a bit slow. But, it wasn't a big problem. There were tons of secrets revealed along the way that I never saw coming. And, I never suspected who the culprit turned out to be. I really enjoyed the story and the ending was lovely.
Siren's Song
was a brilliant YA paranormal romance. I loved this book and I really enjoyed reading it. The romance was sweet, the secrets were shocking, and the story and fantastic. YA lovers, this book is a must read.
*I received a complimentary copy from the publisher in exchange for an honest review