Welcome to my post for the Pleasing the Pirate book tour! I have a review of this wonderful book coming up, as well as a giveaway for a prize pack that includes several amazing books. But, before we get to all that, allow me to introduce the book: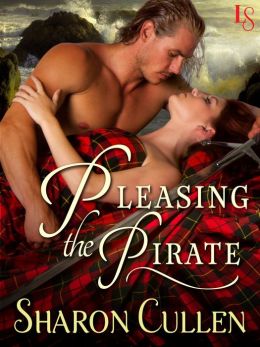 Release date: February 25, 2014
Publisher: Loveswept
Genre: Historical (Pirate) Romance





Two hearts are wrenched between love and duty in Sharon Cullen's tale of a ruthless pirate and the Scottish lass who fills him with desire for something greater than plunder.




With her clan's crops burned and their property confiscated, Mairi McFadden is desperate to free her brother from imprisonment so that he can take his rightful place as chief. Her only hope is the fierce English pirate Phin Lockwood, but the buccaneer laughs at her meager funds. His roving eyes, however, tell Mairi there's something else he'll take in exchange for her brother's rescue. Though she burns with hatred for the English, she'll do anything to save her clan.




The crown has made it clear that Phin has two choices: bring in a certain Scottish traitor or hang. And he's not about to let a tiny, whiskey-eyed woman get in his way, even if she is pointing a gun at him. When Phin learns that Mairi's brother is the very man he seeks, he's more than willing to use the lass as bait. But as the moment of capture draws near, Phin is surprised by his feelings for the courageous beauty who has him considering risking his life—for someone besides himself.


Goodreads

/

Amazon

/

B&N

/

iTunes

/

Books A Million

My Rating: 5 Roses
Sweet, thrilling, and full of secrets and betrayals, Pleasing the Pirate was a wonderful historical romance. I really liked this book. From the characters, to the surprises along the way, this book was lovely.

Mairi was a strong heroine. She was very loyal to her clan and would do anything to take care of them. Even bargain with a pirate so that she could find her brother and bring him back to care for his clan. I really liked her. I thought she was a lovely character.

Phin was wonderful. He was very protective over his loved ones and clever enough to be a formidable opponent. He was very sweet and I totally adored him.

The romance was lovely. Mairi and Phin were great together. They had met their match in each other and I thought it was sweet how they were both willing to sacrifice for each other. And the attraction between them was sizzling from the moment they met. I thought they were a perfect couple.

The plot was fast paced and I was hooked the entire way through. There were a few surprises and one shocker of a betrayal that had me on the edge of my seat. Not to mention the constant anxiety over Phin needing to either find Mairi's brother or forfeit his life. I really enjoyed the story and I thought the ending was perfect.

Pleasing the Pirate was a fantastic historical romance. I really liked this book. From the romance, to the secrets, this book was amazing. Romance lovers, this is a book worth reading.
*I received a free copy from the publisher in exchange for an honest review
______________________________________________________________
Up for grabs is a Regency Romance prize pack that includes several fantastic books, noted on the rafflecopter. Runner up gets a combo pack of a Loveswept mug and tote. Ends March 14.
Good luck!
a Rafflecopter giveaway

About the Author:


After earning a degree in journalism from Ohio University, Sharon found the stories inside her head were more interesting than what was going on in the world around her. Yet, it wasn't until years later that she decided to pursue her secret dream of writing a romance novel. Since then she's been published in romantic suspense, paranormal romance, contemporary romance and historical romance.
The Notorious Lady Anne
is Sharon Cullen's first historical and her debut novel with Loveswept. Look for
The Infamous Lord Blythe
coming in 2013.
Sharon's other job descriptions include chauffeur, laundress, cook and mediator to her three very busy kids, her husband and two dogs. She lives in southwest Ohio with her brood although her dream is to someday retire to St. Maarten and live on the beach.
If you'd like to find out more about Sharon and her books, you can visit her at her blog or her
website
. She's addicted to social networking so you can find her on
Facebook
and
Twitter
. Friend her! Like her!
Follow her! She'd love to hang out with you and talk about her passion—books.