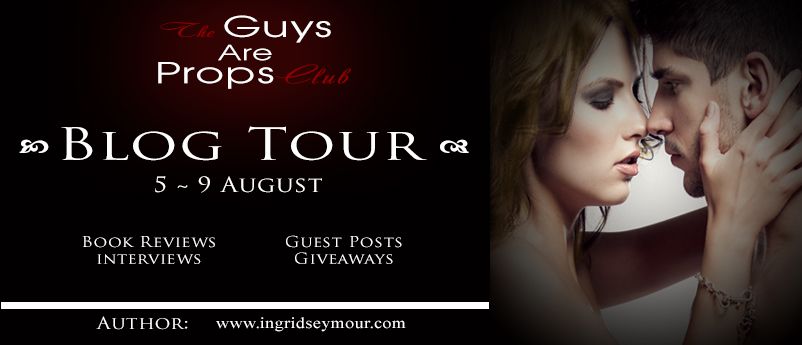 Click on the banner for the full schedule.
Welcome to my post for The Guys Are Props Club book tour! I have a review of this totally amazing book coming up, as well as an excerpt and a giveaway for a Kindle Fire. But, before we get to all that, allow me to introduce the book:
Release date: July 15, 2013
Genre: New Adult Contemporary Romance
During her senior year in high school, Maddie Burch promised herself not to ever fall for a cute guy – or any guy – again. Cute guys are players and not to be trusted, a fact she learned the hard way when her first boyfriend ran her heart through a paper shredder. Two years later, her promise is still intact, and she's determined to make it through college without falling victim to another creep. She has her job, school and The Guys Are Props Club to keep her mind and hormones in check.

The club was founded by Jessica, Maddie's best friend. It is a sisterhood of girls who have fallen prey to heartless jerks and who have vowed to turn the tables. Once a semester, Jessica requires members to "do onto others as they've done unto you." Setting the example, Jessica's next play is Sebastian Capello, a theater major with heartthrob looks and a flair for Latin dance, whose heart she plans to break the way hers was once broken.

What the friends don't know is that Sebastian is different. Despite his perfect looks and popularity, he's not a jerk. He doesn't play games to get his way. Instead, he keeps it real and goes after what he wants with honest intentions. And what he wants is not a bombshell like Jessica, but a down-to-earth girl like Maddie – even if it causes a riff in the girl's friendship. Even if it means getting Maddie to break her personal vow.

*** Due to language and sexual situations this book is recommended for ages 17 and older.
My Rating: 5 Roses
Totally loved this book! The Guys Are Props Club was an absolutely wonderful New Adult romance. I loved every bit of it!

I was a bit unsure going into this book. Though it sounded great, the idea of a club that targets "players" and breaks their hearts could have easily been an issue. For one thing, that's really mean, to set out to break a guy's heart. For another, it isn't really fair to label all handsome guys as players just because one broke your heart. And, though I understand that it was a kind of revenge, they were taking out their anger on guys who hadn't done anything to them. But, somehow, the author made it work. She made it understandable why girls would do it without justifying it. So I still liked the characters and supported them. Kudos to the author for managing that.

Maddie was a great heroine. I thought that I would have an issue with her because of the GAP club, but honestly the way she got her heart broken made all her anger understandable. It wasn't just a messy break up. It was an epic heartbreak on an unbelievable level. So, I couldn't fault her for her bitterness. But, even when doing the plays, she didn't feel right. She might be bitter, but she was still a really nice person at heart and the plays never sat well with her. So, she decides it's high time she gave them up and moved on. If only her friend, Jessica, would let her. I really liked Maddie. She was easy to relate to and very likable. I thought she was wonderful.

Sebastian...
I don't think swoon-worthy even begins to cover how amazing he is.
He's not just a pretty face (and it's a VERY pretty face). He's also a genuinely nice guy. Sweet and honest and charming and just perfect. It took me all of two pages to adore him. And, goodness does he sound attractive. The epitome of "tall, dark, and handsome." Tan skin, dark hair, green eyes, perfect features. Think Zayne Malik or Enrique Iglesias with green eyes. *fans self* Wow, right? I adored him. He was *sigh* absolute perfection.

The romance was so sweet. Maddie and Sebastian were wonderful together. And there was chemistry between them from the first meeting and the sparks kept flying from there. I loved these two together. They were a lovely couple.

I have to mention Jessica, since she played such a big part in the book. This girl is a manipulative bitch. There's no nice way to say it. She was mean and stuck in the past. She seriously needed to move on with her life and get over herself. And the stunt she pulled near the end? Ridiculous. Yet, despite how much I disliked her for most of the book, when she had a chance to explain herself near the end, I was actually sympathetic. It's really a feat to get me to feel bad for a character after I spent most of the book cursing their existence. It's a testament to the author for achieving that.

The plot was fast paced and I was totally hooked the entire way through. There were surprises and the reveal of how Maddie had her heart broken had me reeling. I mentioned it before, but, wow. It's worse than anything a soap opera could come up with. The one thing I wish had been added was closure for the issue Maddie had with her mom. Honestly, with what happened, her mother doesn't even deserve forgiveness, but I was curious about what she had to say for herself. Otherwise, this story was perfection. And the ending was a wonderful wrap up to the book.

The Guys Are Props Club was a brilliant New Adult Romance. It's definitely on my list of favorite NA books. To say I loved it would be an understatement. It was just perfect. Lovers of New Adult romance, if you're looking for a fantastic read, than this is your book.
*I received a free copy in exchange for an honest review
____________________________________________________________________
"So here's what I know about you, Madison," Sebastian started. "You're beautiful, smart, dedicated. You
have a huge heart, a killer bod." He sighed and shook his head. The brush of his gaze on my body gave me the chills.
I blushed and started to fidget with the tab on my soda can, swiveling it around in circles.
"You'd think that with all of that," he continued, "I wouldn't need to know more, but I want to learn everything there is to learn about Madison Riley Burch. I want to know you . . . inside and out."
___________________________________________________________________
Up for grabs is a Kindle Fire pre-loaded with The Guys Are Props Club (US/UK/CAN only) or an equivalent Amazon gift card if you're International. Second prize is a signed paperback (INT). Ends August 28.
Good luck!
a Rafflecopter giveaway
About the Author:
Ingrid Seymour loves, loves, loves to write. Her favorite genres are Young Adult and New Adult fiction. Her debut novel "The Guys Are Props Club" is an NA contemporary romance which she immensely enjoyed writing. Her favorite outings involve a trip to the library or bookstore where she immediately gravitates toward the YA section. She's an avid reader and fangirl of many amazing books. She's sure that one day she'll see one of her books made into a movie. She likes to dream big ;)