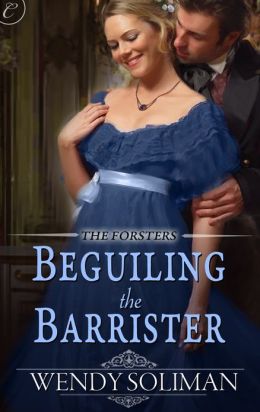 England, 1814
Flick—more properly known as Lady Felicity Forster—was twelve when she decided she was going to marry her handsome neighbor Darius Grantley. Now, embarking on her second season, she's no nearer to that lofty ambition. She commits to making Darius fall in love with her, if only he'd take a break from pleading the case of the common criminal as a barrister at the Old Bailey.

Darius adores the lovely, high-spirited younger sister of the Marquess of Denby, but he's all too aware that Flick is far above him in social status, not to mention fortune. Winning the high-profile Cuthbert case will earn him a promised appointment to King's Counsel and just enough income to provide a home for his well-born lady.

But the cards are stacked against him. Not only do the newspapers trumpet his clients' guilt, but a powerful peer bribes the witnesses and threatens Flick unless Darius sabotages his own case…

For more of the Forsters, check out Compromising the Marquess , available now!
My Rating: 5 Roses
Just as brilliant as the first book in the series! Beguiling the Barrister was a fantastic historical romance. I absolutely loved everything about it.


I loved that the romance in this book was the "friends to lovers" thing. Which happens to be my favorite romance story line. Flick and Darius knew each other as children and fell in love when they grew up. It was brilliantly done. That, and all the other wonderful things about this book, made
Beguiling the Barrister
a great read.
Flick was a very likable heroine. She was determined and wasn't about to let anything get in the way of a future with Darius. She was a lively character and she made this book very fun with her sometimes impulsive actions. I thought she was a delightful character.
Darius was just as wonderful. He was so sweet! And I loved how he was so faithful to his morals. Not even the draw of success could get him to give up his values and his determination to win real justice. He was a true gentleman, with all the chivalry and honor that went along with it. He was just perfect. I adored him.
The romance was brilliant. Since Flick and Darius had already been in love for a while, there was a lot of pent up longing between them. It made their relationship so sweet. I liked that, since they already did love each other, there was none of that stubborn denial that usually makes me annoyed. They had their moments of doubt, like any other couple, but they never doubted each other. And there was a touch of spice between them that was very hot. They were a lovely couple and the romance was perfect.
The plot was fast paced. The whole conflict of the Cuthbert case was thrilling and had me on the edge of my seat, anxious to find out what would happen. I was completely riveted the entire way through. And the ending was perfect!
Beguiling the Barrister was an absolutely amazing historical romance. I loved it, loved it, loved it! Lovers of the genre, you definitely must read this book.
*Thanks to Netgalley and Carina Press for a copy!
_______________________________________________________________
Today, I have 2 paranormal romances that sound great:
Wickedest Witch by Eve Langlais
and
Dark Wolf Rising by Rhyannon Byrd
. Go forth and get them for free!
1)

Thank you for engaging the services of Wicked Incorporated, where the insults are given for free.
Evangeline is not a very nice witch, and she's not afraid to show it. Her ruthless nature comes in handy as a problem solver until she lands a job where she's forced to work with an uncouth shifter. He's rude, cocky, totally unsuitable, not to mention part animal, but despite it all, she can't help craving his touch.

Ryker is big, bad, and brash. When he's partnered with a curvy witch, he does everything in his power to fight her allure. And fails. But he's not too disappointed as he discovers wickedness has its uses, especially in the bedroom.

Vampires, a wedding from hell, and a cackling boss named Rumpelstiltskin make this an adventure packed, humorous paranormal romance sure to make you smile.
2)
Eric Drake, a powerful Dark Wolf, has never trusted himself around human females—preferring to mate only within his pack. That is, until he encounters Chelsea Smart snooping around Silvercrest pack land in search of her missing sister.

Secretly, Chelsea thinks Eric is the sexiest man she's ever seen, though she is wary of his potent Alpha energy. Then it's discovered that Chelsea's sister is being held by a pack of vicious Lycans, and Eric heroically leaps into action. Now, Chelsea will risk everything—her body and soul—to surrender to the passion that will mark her as Eric's woman for all eternity…if they survive.