Welcome to my post for the Trust in Me Book Blitz! I have an excerpt and a giveaway of of a book in the Friends of Lovers series (winner's choice), but let me first introduce the book: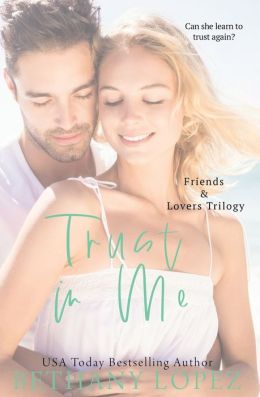 Roni's dreams of becoming a contemporary dancer were smashed under the brutal rage of her ex-husband's fists. Getting divorced and starting over at the age of twenty-two was never her plan, but maybe in Texas, she'll find her path. When the town's local player, Rich, opens a Rec Center, she sees a way to rekindle her dancing dreams...and maybe have a little fun with her sexy new boss.

Rich never expected to fulfill his dreams in the town he planned to leave behind, but that's just what he's doing. His reputation as a noncommittal ladies' man might make it challenging to earn respect in the business world, but he's willing to prove that he's serious. In fact, when it comes to pursuing Roni, he's more than willing. But she's taking a page out of his book, not wanting to risk another relationship. Can he convince her that his playboy days are over and that she can trust him with her heart?
____________________________________________________________
She walked inside and spun slowly, inhaling deeply as she moved. The fresh paint and varnish smelled like hope. She perused the room, touching ever surface, trying to convince herself that this was real. This time her dream was going to come true.
As thoughts of Hank crept back into her mind, she lifted her leg onto the bar and began to stretch, not even conscious of what she was doing.
She felt foolish for believing he loved her, even after he'd started to hit her. He was the only man she ever kissed. The only man to ever touch her. She felt cheated thinking about it.
Roni felt unsettled and out of sorts. She needed something to bring her out of this funk. Something to prove that she was still desirable, that this divorce wasn't an ending, but rather, a beginning.
Roni stretched a bit more as her thoughts ran rampant in her head. She heard the front door shut, then the lock being turned. She walked quietly to the door of her studio and saw Rich turning from the front door.
She walked a little more loudly out into the hallway, causing him to start and turn.
"Shit, Roni," Rich said with a quick laugh. "I didn't know you were in here. I thought I was alone. When did you get…?" Before he could finish his sentence, Roni catapulted into his arms, her lips fusing onto his.
Rich stumbled back a step, taken off guard, before he caught himself and began to return her kiss.
She could tell he was surprised, but she had to hand it to him, he went with it.
____________________________________________________________
Up for grabs is an e-copy of one of the books in the Friends and Lovers series-winner's choice. Ends March 30.
Good luck!
a Rafflecopter giveaway
About the author:
Bethany Lopez was born in Detroit, Michigan, and grew up in Michigan and San Antonio, Texas. She went to High School at Dearborn High, in Dearborn, Michigan, which is where she has set her Young Adult series. She is married and has a blended family with five children. She is currently serving in the United States Air Force as a Recruiter in Los Angeles, California. She has always loved to read and write and has seen her dream realized by independently publishing her novels through Amazon, Barnes & Noble, and Smashwords.