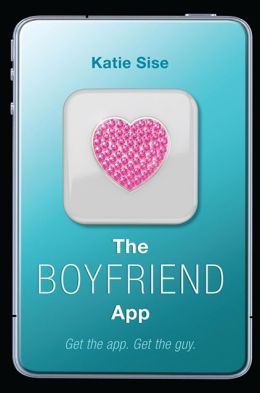 From stunning new talent Katie Sise comes an irresistible Cinderella story with a tech twist.

Computer whiz Audrey McCarthy feels most at home in a tech lab, surrounded by her fellow geeks. Once popular and fearless, she hasn't been the same since her dad died. And her ex–best friend, gorgeous queen bee Blake Dawkins, has turned into her worst nightmare. Audrey is counting the minutes until high school is over and she can get the hell out of Dodge and go to college—that is, if she can find a scholarship.

So when Public Corporation, a giant tech company, announces a contest for the best app developed by a high schooler—with $200,000 in prize money—Audrey is spurred into action. She comes up with an idea so simple, yet so brilliant, she can't believe it hasn't been done: the Boyfriend App.

With a simple touch of the screen, romance blooms among the unlikeliest couples at school, and people start to take notice. But it's not quite enough.

To beat out the competition, Audrey will have to dig deeper. And she does—right into a scandal that would rock Public to its core. Suddenly the Boyfriend App lands Audrey where she never expected to be: in the middle of the limelight, passionately kissed by the hottest guys in school, causing complete and utter mayhem. But can it bring her true love?
My Rating: 4/5
A different YA, but definitely different in a good way. The Boyfriend App was a lovely YA romance with a mix of secrets and high tech fun.
I really like the idea for this book. It's unique within the world of YA. I haven't heard of any other YA book that is anything like The Boyfriend App. And it certainly turned out well.
Audrey was a wonderful character. She was very easy to relate to. She was just a tech nerd in high school-one who suddenly got very famous for her app. She was down to earth during the whole thing. I was worried that it would go to her head and I would end up not liking her character, but I definitely did. And I like that she was a decisive character. I don't know if that sounds weird, so let me explain. Audrey knew what she wanted from page one and didn't waver from her determination-no irritating indecisiveness. Does that make sense?
Moving on...
I really liked Audrey's character and I think others will as well.
Aiden was the love interest in the book and I adored him. He was so sweet! He had that whole shy, hot nerd thing going on. It was immediately obvious that he had a crush on Audrey-just as she had a crush on him-and it was so adorable. I could just go on and on about how much I loved him, but I'll move on.
Audrey and Aiden were a very sweet couple. As I mentioned, they were both infatuated with each other, but neither of them had the courage to admit it. The way their relationship came about was very realistic and very cute. They were just a perfect couple.
The plot was well paced, keeping me interested the entire way. However, the plot didn't feel completely connected. I'm not sure how to explain that. The plot wasn't unrelated, but it didn't feel seamlessly connected all the time. I hope that made sense. This wasn't a terrible problem but it was a little distracting. Nonetheless, I still enjoyed the story.
The secrets that come up about Public Corporation were a major part of the story and they had my jaw dropping. And all the drama resulting from the boyfriend app had me hooked. The ending was a perfect wrap-up.
The Boyfriend App was a brilliant YA the featured romance, secrets, and plenty of drama. If you like any of that, you should give this book a read.
*Thanks to Edelweiss and Balzer & Bray for a copy!
___________________________________________________________
Today, I have a historical romance that sounds like a great retelling of
The Taming of the Shrew:
Honor's Players by Holly Newman.
Go forth and get it for free!

Every bachelor in London sought the attentions of the beautiful Helene Monweithe. Unfortunately, pursuit was futile. Helene's father had decreed that she could not wed before her older sister, Elizabeth, wed. Considering Elizabeth's reputation as The Shrew of London, this was cause for alarm.Then Justin, Viscount St. Ryne, asked for Elizabeth's hand in marriage. If her family wept for joy, Elizabeth shrieked in fury. But in her heart of hearts she acknowledged he resembled the hero of her closely guarded dreams.
Poor Elizabeth hadn't the faintest notion that St. Ryne had a curious plan designed to tame her, a plan that would tangle their hearts and would, in the face of unexpected interlopers and domestic scandal, teach both arrogant husband and quick-tempered wife a thing or two about love and marriage!