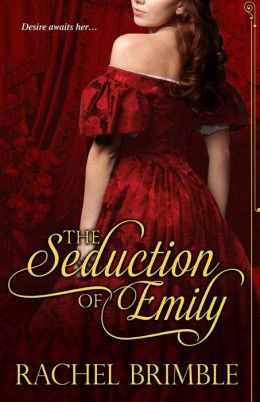 Seduction is a wicked game, and no one plays it better than the devilish Will Samson in Rachel Brimble's captivating new novel. . .

Since girlhood, Emily Darson has accepted that she will marry Nicholas, the son of her father's trusted business partner. The marriage contract safeguards her family legacy, Emily's fortune, and everything she values--except her independence. Only when a sinfully handsome scoundrel enters her life does Emily realize quite how much a loveless match will cost her.

Will Samson has advanced from expert pickpocket to confidence trickster of the highest caliber. Now he has come to Bath to exact vengeance on the man who destroyed his mother--the man Emily will soon marry. But from his first glimpse of the enemy's bewitching, spirited fiance, Will's plan changes.

Amid the ballrooms and salons of elegant society, heated glances explode into scandalous kisses. Revenge is sweet, but surrender will be irresistible. . .
My Rating: 4/5
A lovely romance! The Seduction of Emily is a sweet romance that will charm readers.
Emily was a wonderful heroine. She wasn't one to let others rule her. For a while, however, I did get frustrated with her stubborn determination to martyr herself into marriage with Nicholas, even after she saw the first hints of his bad character. She kept saying that she had to preserve her father's legacy but her father was telling her that she didn't have to get married to Nicholas and that he didn't want her to do so. It was a little irritating. But, that was really the only problem in the entire book. Other than that, Emily was a brilliant character. She was tough and very clever. And, once she decided on a path, there wasn't anything that was going to stop her. I really liked her and I think other readers will, as well.
Will was amazing! I adored him. He was so charming and wonderful. I loved that he was so determined to avenge his mother. Nicholas did something very bad to her, which Will finds out he does to many women, and Will wants to stop it before Nicholas can hurt anyone else. I just thought that was so knight-in-shining-armor. He was so sweet and determined to protect not only those he cared about, but anyone else that he could. He was just...perfect.
Will and Emily were adorable together. They both definitely met their match in each other. Both are strong characters and they definitely were well matched. They were mostly a sweet couple. Only the smallest hint of spice in this book. I loved these two together. They were a lovely couple.
The plot of the book was well-paced. It moved swiftly and kept me hooked the entire time. There weren't any outstanding surprises in this book, but it definitely wasn't predictable, either. The ending was absolutely perfect-a sweet happy ending.
The Seduction of Emily is a fantastic romance! To any romance lovers, you definitely need to give this one a read.
*Thanks to Netgalley and Kensington Books for a copy!
________________________________________________________
Today, I have two books for you, one that I read before and enjoyed and one that just sounds very interesting:
A Ravishing Redhead by Jillian Eaton
and
In Sarah's Shadow by Harris Channing
. Go forth and get them for free!
1)
On her wedding night Margaret's husband took something infinitely precious from her before he disappeared to parts unknown… No, not her virginity. Her dowry! Now she is stuck at his rundown estate without a penny to her name and enough time on her hands to think up a thousand different ways to get revenge against the man who duped her and dumped her.
Henry saw only one way out of his family's gambling debts: to marry a wealthy heiress. Now after nearly a year spent abroad recouping his losses and building a new fortune, he can only vaguely recall what his wife looks like. He remembers her as a sweet, shy girl with beautiful auburn hair and lovely blue eyes. Who then is this entrancing red haired hellion that dresses like a man and swears like a sailor?

Greed and secrets tore them apart. Now fate has brought them back together. Can two strangers find love after marriage? Or will their differences prove too difficult to overcome despite their sizzling chemistry? Find out in "A Ravishing Redhead", the second novella in the Wedded Women Quartet!
2)

Mother Nature plays matchmaker...
Frostbitten Roberta Shallcross is a woman in need of a hero. David Henderson is far from that. He's a drunk who can't get past the murder of his wife, Sarah.

When David grudgingly saves Bobbie's life from the Rocky Mountain wilderness, she intends to return the favor. But will their burgeoning affection be powerful enough to overcome his guilt and grief?