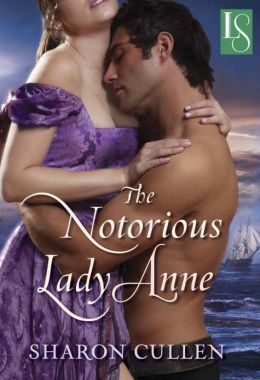 Nicholas Addison, celebrated captain of the Blackwell Shipping Fleet, has agreed to take Mrs. Emmaline Sutherland aboard the Pride and ferry the raven-haired beauty across the Atlantic on what he imagines will be a routine trip. But when the ship is attacked by pirates, the seemingly innocent passenger is revealed to be none other than the infamous marauder Lady Anne, whose name strikes fear in the hearts of sailors everywhere—and whose seductive wiles commandeers Nicholas's affections.

Lady Anne, a legend of the high seas, has spent the last eleven years plotting revenge against her father, the owner of Blackwell Shipping. She's targeted the Pride in hopes of plundering its captain's company secrets. But beneath her fierce courage and bitter determination, Anne has the delicate heart of a woman—a heart that cannot help falling for Nicholas. Now Anne must make a difficult choice: bring down Blackwell or surrender to love.
My Rating: 4/5
A delightful pirate romance with a twist! The Notorious Lady Anne is a spectacular read...
I really liked the idea behind this book. There are, of course, many historical romances about a pirate who abducts the heroine and, eventually, they fall in love. This book was a role reversal. The pirate was Emmaline, AKA Lady Anne and she abducts the hero-Nicholas. And, this book does not disappoint at all.
Emmaline was definitely a different heroine. She is bent on revenge and is using piracy to get it. Despite being a woman, she makes her mark as a ruthless and clever pirate. At times, it was slightly annoying that she didn't even consider that she was ruining several people's livelihood to get vengeance on one person. But, that is the only negative thing I have to say about her. Otherwise, she was a lovely heroine that anyone would like. Her dedication, though occasionally misguided, was admirable. In short, she was great.
Nicholas was even more incredible. Having been badly injured after being attacked by pirates, he holds no great love for any of them. So, when Emmaline/Anne comes along, a conflict of interest ensues. Definitely adds some drama. But, moving on, Nicholas was an ideal hero. He was strong and clever, but also sweet and loving. And he would do anything to protect the woman he loves. Everything about him was wonderful. I adored the captain.
Emmaline and Nicholas has a complicated relationship, to say the least. Both should hate each other, but neither of them can. More than that, they are attracted to each other despite their conflict. But, they still managed to fall in love and it was very sweet. Not to mention the spicy that came along when that attraction between them caught fire. They were an adorable couple, one that really deserved their happy ending.
The plot of the book moved quickly. There was never a dull moment and I was hooked throughout the whole book. The ending was perfect, tying everything up in a clever way.
The Notorious Lady Anne is a delightful romance! Any romance lover should give it a read.
Thanks to Netgalley for a copy!
_____________________________________________________
Featured Freebie:
The temptation of a forbidden love...
Katherine Wellings has been ordered to return home with a titled husband or risk being disowned by her family. After an impetuous kiss with her sponsor's son reveals temptation and passion she attempts to forget the incident and continue her search.

Garrett Brentley is not willing to let Katherine slip through his arms so easily. He is unrelenting in his pursuit and not above using tricks to get what he wants. Catching her alone Garret begins a seduction that leaves her defenseless.

Katherine is slowly and unwillingly falling in love. Now she must decide whose heart she will break, her mother's or her own.