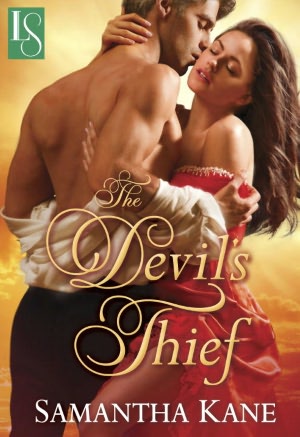 In Samantha Kane's sensual tale of wicked passion, a desperate woman must resort to burglary—but the beautiful thief ends up stealing the heart of a rogue.
The daughter of a reformed jewel thief, Julianna Harte knows a thing or two about stealth. When the foundling home she provides for finds itself in dire financial straits, Julianna is forced to do the unthinkable. In a bit of misguided Robin Hood derring-do, she slips through the window of a wealthy rake to search for a treasure she knows is there: an invaluable pearl. But when the towering and very naked occupant of the moonlit bedroom ambushes her with a bargain—a night in his bed in exchange for the pearl—Julianna doesn't know if it's masculine heat or sheer desperation that makes his terms so tempting.
Alasdair Sharpe had no intention of keeping his end of the bargain. Planning to offer his little cat burglar carte blanche instead, he promptly loses himself in the delights of unexpected pleasure. But when he awakes the next morning to find his family heirloom gone, fury quickly replaces sensual languor. Of course, Alasdair is more than willing to use seduction to reclaim his stolen pearl—and find the key to Julianna's heart.
The Devil's Thief was, hands down, one of the best romances I've ever read. There is romance, suspense, surprises, anything you could ask for in a historical romance. And I just devoured it.
First of all, I really liked the idea. It's a new one, one I haven't seen before. A lady stealing from a handsome gentleman for the sake of her orphanage and getting caught? It already sounds like a winner.
My favorite part, however, was the characters. They were all brilliant.
Juilianna is not your average lady. She cares for the children in her orphanage and will do whatever it takes to take care of them. Even if it means stealing an invaluable pearl. However, she feels bad about stealing the pearl later, once she and Alasdair have fallen for each other. So, about halfway through, the story is focused on getting the pearl back. And Julianna is just as brave, if a little reckless, in getting it back as she was in stealing it. She was a lovely character. One that I could really like.
Alasdair was wonderful; I adored him. He places a lot of value in the pearl, a family heirloom from his mother's side. So when it gets stolen, he's understandably angry. But, right away, there was a blur in which he wanted more, the pearl or Julianna. When he started looking for his pearl, he was already more focused on Julianna than his heirloom. He was so sweet and protective of her, the perfect hero for the story. Their relationship was explosive. Right away, there are sparks flying and they don't let up. And it doesn't take long for him to see his real treasure. And on that cryptic note, I will move on to the other characters.
I loved every one of them. Roger, Wiley, Hil, even the Earl (Alasdair's cousin). Roger, Alasdair's friend, was hilarious. His comments made me laugh out loud-literally. Hil, another friend, was lovely in a different way. He was more staid and serious, but he doesn't hesitate to move into action when one of his friends need help. Wiley was amazing. He's the leader of a street gang and, at only seventeen, has two young boys in Julianna's orphanage. He helps her with the pearl business, from selling it, to retrieving it. He was totally awesome and hilarious at times. I even liked Julianna's father and step-mother. They were nice and had their shining moments. Every character was dynamic, even the antagonists.
The plot moved quickly. It starts immediately, with the first sentence and moves fast from there. The story kept me hooked from beginning to end.
The Devil's Thief is brilliant, one of my favorite romances to date.
5/5
Thanks to Netgalley for a copy!