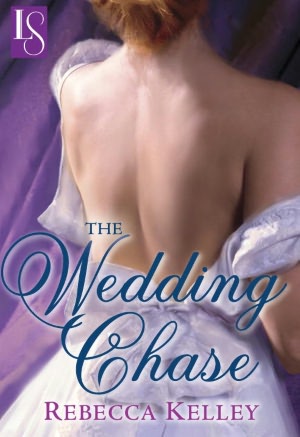 What happens when a bride ends up with the wrong groom? In Rebecca Kelley's witty, passionate tale of romance, sparks fly between an eligible lady who doesn't trust her desires and the roguish suitor determined to prove her wrong.
Wolfgang Hardwicke, the Earl of Northcliffe, is up to no good, as usual. He doesn't know why he comes to the aid of a drunken gambler. He certainly isn't expecting to be rewarded with a glimpse of the gambler's exquisite sister—and yet one glimpse is not enough. So Wolfgang is absolutely thrilled to see her again, lighting up a dull party as she plays piano. But to win this glorious musician's hand, the notorious rake will have to change her tune—fast.
Miss Grizelda Fleetwood has no interest in romance—she's only marrying to save her family from financial ruin. That is, if she can find a suitable match before the unprincipled and relentless Earl of Northcliffe ruins her reputation. Unlike her not-so-secret admirer, Zel is an unabashed do-gooder with a soft spot for those in need. But if Zel is too generous with Wolfgang, she might find herself walking down the aisle with the one man she never expected—a husband she loves with all her heart.
The Wedding Chase is a sweet story that has it all: drama, romance, hilarity, and surprises. Loved it!
The idea of the story is fairly standard in the world of historical romance, but the author doesn't keep it that way. She turns the used idea of a rake falling for a good girl into an original story that no one can call standard.
Zel was one hell of a character. She was so fun, and I adored her. Zel might be slightly crazy (you'll see why I say that) but it only makes you love her more. She refuses to let society run her life and lives exactly as she wants to. She's spent her life since her mom's death taking care of her father and brother-both of whom are reckless gamblers. She takes on the finances of the entire family to keep them afloat. I really admired her for that. Not only is she strong for managing everything that her gambling father won't, but she still would do anything for her brother and father. Besides that, her slightly crazy antics are hilarious. For example, she finds Wolfgang in her room one night and she doesn't want him there (yet). What does she do? She punches him and gives him a black eye. I swear, I burst out laughing during that part. Zel was a lovely character. I adored her.
Wolfgang was equally wonderful. For one thing, I love his name. It's a little strange, but it seems to fit him very well. He's very sweet. Even while he's still chasing her and he claims he has no feelings for her, he does everything he can to make sure nothing happens to her reputation. When he finally realizes that he's in love with Zel, he is the epitome of sweet. Of course, he doesn't come across that way at first. In the beginning, he is unrepentant in trying to seduce Zel. And he's not below taking every chance he has to get closer. But I loved both sides of him. He's handsome, charming, and sweet. In other words, he is perfect.
The story goes by fast, despite the length of it. The story takes off right away and doesn't drag or fall into any dull moments. The ending was perfect. Not only is it happy, but the last scene is hilarious and seems to sum up the relationship between Zel and Wolfgang: wild.
The Wedding Chase is wonderful, absolute perfection.
5/5
Thanks to Netgalley for a copy!