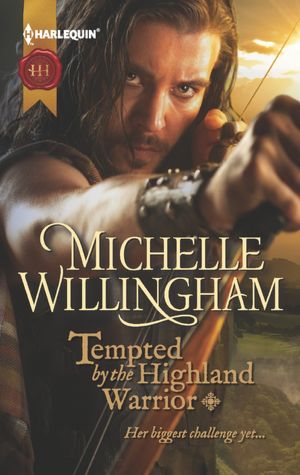 After years of brutal torture, Callum MacKinloch is finally free of his captors--but his voice is still held prisoner. He'd never let anyone hear him scream.Although Lady Marguerite de Montpierre's chains may be invisible, they threaten to tie her to a loveless and cruel marriage.
When Marguerite discovers Callum waiting to die, her heart aches for the warrior beneath the suffering--but they can have no future. Yet she is the one woman with the power to tame the rage locked inside him. Maybe he can find another reason to live...for her.
Started off shaky but ended up being a lovely story about fighting for love. The beginning was a little frustrating, but it turned out to be a wonderful book in the end.
First off, the romance in this book is phenomenal. The love between Marguerite and Callum is the kind of love that saves loves, incites bravery, and changes lives. From the beginning, their love was pure and lovely. I think the most beautiful part of it is the fact that the glimpse of love that Callum got from Marguerite while he was still imprisoned motivated him to fight for life. From then on, it moves from fledgling romance, to fiery passion, to eternal devotion. The romance was, without a doubt, the best part of the story.
Now to the characters. There isn't much mention of characters other than the two main ones. They're there, but secondary characters don't play a very big role. Which is good or bad depending on your preferences. I liked that the story was focused on the love, as is obvious after I gushed about the romance. Marguerite was frustrating to me in the beginning. After showing bravery by helping Callum, she just loses her spine. When she has to either fight for Callum or submit to an arranged marriage, she doesn't really do anything other than offer a few feeble protests. It frustrated me so much that she had no backbone. I spent a large portion of the book wanting to shake her. I knew that she had bravery buried in there somewhere, but she wasn't showing it. Eventually, she does grow a spine, but only after causing me to get this close to throwing a fit. She was my one main problem. That whole coward thing just didn't work for me. However, I could understand why she was so submissive, and that kept me from getting too irritated. She was the youngest daughter, accustomed to obeying commands. And after she found her bravery, I had to forgive her. Because when she decides to fight for her love, she doesn't do it half-way. She goes all out. So, I ended up liking her.
Callum is a much easier story to tell. I liked him from beginning to end. After being stuck in captivity for years, the poor man is broken. He's physically weakened and he's lost his voice. And once he finds his salvation in Marguerite, he holds on to that love with everything he has. He risks his life fighting for Marguerite and refuses to give her up. His determination and devotion were SO sweet. I absolutely adored him for it. He was absolutely perfect, one of the best romance heroes I've seen. Hot, tormented, devoted. What more could you want?
The story is, as I said, largely focused on the romance. The extra bits of political intrigue were interesting and added a lot to the story. The plot is paced well. It doesn't go by particularly fast, but it doesn't drag either. It's more like the author takes her time unfurling the plot to its best advantage. The ending was wonderful, just perfect. I was so glad that the two lovebirds got their happiness after all the tremendous struggle they went through.
Tempted by the Highland Warrior is a wonderful book, one I would recommend to any lover of historical romance.
4/5
Thanks to Netgalley for a copy!